Sun Dance:
An Original Opera about Native American Political Prisoner Leonard Peltier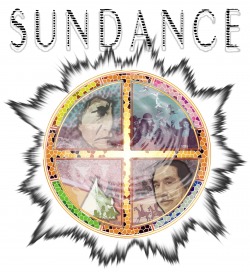 "You are about to perform an act which will close one more chapter in the history of the failure of the United States to do justice in the case of a Native American."

Leonard Peltier - Sentencing Statement
April 18, 1977



Sun Dance is an original opera that tells the story of Leonard Peltier, a Native American political prisoner. The opera presents Leonard's story in the context of interactions that characterize the unequal and oppressive relationship between the United States government and Native Americans, events like the massacre at Wounded Knee and the occupation of Alcatraz.

We see Sun Dance as a piece of art, an educational tool, and a vehicle for activism. Sun Dance is a contemporary opera, written for small production companies, to be performed either in its entirety or as isolated historical scenes. As part of its premiere, it was paired with educational programs for high school and college audiences. The historical scenes were designed so that they can be taken out and performed separately from the entire opera and the work can be accompanied by piano or by a small ensemble (flute, clarinet, violin, cello, keyboard, and piano). Several of the ensemble pieces are also arranged for a capella SATB choir.

Sun Dance also reminds audiences that neither Leonard Peltier's story nor the story of Native Americans in this county have been resolved. As Leonard recently wrote to his supporters, and as several characters in the opera remind us, "Don't forget, not ever."
---